Here's a new version of the player movement and physics test box. There are a lot of minor changes here and experimentation. Tell me how you like it (is it better than the previous one?). The keys remain the same (see post below) except dropping from platform.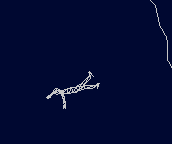 Change log:
tweaked movement and physics control
double-tap crouch button (key S) to drop from platform
player doesn't run on stairs by default
jump on stairs to run on them
bunny hopping prevention
smooth camera
respawning (press ESC to die)
Known problems:
floating onto platform
player sometimes falls through platform
will slow-down or crash with large number of objects
sliding down ramps
UPDATE!
– added config file (config.txt) for changing all variables for anyone that likes to experiment
– jumping is sensitive to key pressing  time