They need an undercover agent to infiltrate the Chicago mafia. Who's the best man for the job?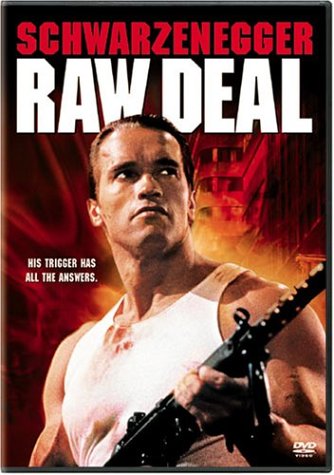 Of course a 260lbs bodybuilder with an accent and an obvious cigar smoking habit.

You know who I'm talking about. Arnold once again stars in one of the best movies of the 80's. Raw Deal is pure testosterone, ass-kicking, shooting, mixed with heavy guitar riffs and catchy one-liners. All that you ever wanted from a movie.
The main character is called Kaminsky and he is Polish. Arnold captures the Polish look and accent perfectly. Even I could not do it better.
The movie starts with something that can be called plot building. It lasts for about 15 minutes, which is rather long, but fortunately the idea of a story is dropped entirely after that. Arnold's wife plays for about 3 minutes just to show that Kaminsky is a family guy. This could be dropped and replaced by a simple narrative or text before the movie but if they didn't include this scene we would be deprived of possibly the best one-liner in all movie history.
Arnold comes back home after a long day of ass kicking and criminal killing. He expects to see dinner but instead he stumbles on his wife completely drunk with a cake. You must see this for yourself:
Kaminsky then has enough of being a redneck in a small town and takes a job as an undercover cop in the Chicago mafia (is it a Polish mafia? Boss's names: Patrovita, Lamanski… I haven't figured that out). After destroying his identity (by blowing up his car next to an oil factory, creating a gigantic explosion and killing innocent bystanders) he becomes some kind of James Bond character. Only better because he fights and demolishes more. Of course he is also a Master Charm. This is what he does:
When he firsts meets Monique at a casino table this is their first conversation:
Monique: Losing improves your character.
Arnold: Winning improves your wardrobe.
(implying that her dress looks like shit)
The second time they meet is when Arnold is waiting outside a hotel.

Monique: Losing at tennis wouldn't help me feel any better.
Arnold: Excercise might.
(implying that she's fat)
Of course that attitude works and she falls in love with him.
That or the muscles… not sure.
Probably the most classic scene from this movie is the final battle. Arnold puts on a leather jacket. Takes out his 30 or so weapons (stacked in a closet). Puts Rolling Stones "Satisfaction" in the cassette player (this was before ipod's) and rolls out to kill. No talking, no plot, no nothing. Just 15 minutes of uninterrupted shooting at bad guys. This is how computer games should look like.
Did anyone notice that the bar in the final scene was modelled in one of the Duke Nukem 3D maps?
Some more random facts hand picked by me:
This is the third movie I remember with Arnold being in a gay bar (Terminator 3, Eraser) (Red Heat doesn't count, it was a male sauna)
Best 80's feature: the soundtrack
Most unintentionally funny moment:
Chief Harry Shannon: You remember my son Blair?
Arnold: Yeah. We went to a few ball games together. He joined the bureau, didn't he?
Chief Harry Shannon: Yeah.
Arnold: How is he?
Chief Harry Shannon: Dead.
Best tagline – look at picture on top
Most inspirational moment – ending scene
Arnold: Walk.
Harry: I can't walk!
Arnold: You don't have to walk, but you have to try like hell.
Harry: I can't!
Arnold: Did you ever quit in front of Bleeah (Blair)?
Best one-liner: You should not drink and bake!