Here is a picture of the new damage model. It is pretty straight-forward, that's how I want it to be. I have already coded it and it plays really well with bots. One shot kills bring a completely new dimension to this game. It should have been like this from the start. Previously damage was weapon specific and calculated based on bullet speed. I think, even though it is realistic, this is confusing and hard to balance.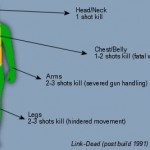 This damage model is unified across all current weapons. This means be it pistol or sniper all have nearly the same damage. They vary slightly when hit in other areas except head. So every gun kills when shot in the neck or head (with the exception of multiple shot weapons like nailer or shotgun – damage is spread evenly across bullets then). So guns will vary now only in bullet speed (but does not affect damage), fire rate, maneuverability, weight, recoil, steadiness and so on.
I also fixed a bug which is really caused by the game being played on a 2D plane. If your arms are in front of you, the bullet will hit the arms instead of the chest. I made it to check the chest now first for bullet collision, so there are more critical hits in the chest and head instead of arms.