Got something extra fantastic here. I thought about this a long time ago and finally got it implemented. This is a decal system. In the video you can see it working for bullet hits.

Music: House of Death by Manowar 
The decal system works like painting on the body part sprites. So you can do anything with it.
Draw:
customized clothes
customized camo (change a specific region color)
tattoos
different faces
different facial hair
bullet hits (blood, armor marks)
dirt, mud, dust
 
This is not like drawing something on top. You can change the sprite itself, by taking a chunk of flesh out of the body for example and make real holes!
Let me illustrate this: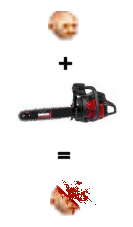 Next to the mighty animations and completely new map format this is the third revolutionary thing in link-dead. There isn't any 2D game out there that has this working like this. There are some manly 3D games that have it (like Kingpin or Soldier of Fortune) but not with sprites. Link-dead will set a completely new standard and change 2D games history forever. And this is just the technology I'm presenting you here, wait for the actual game ideas!