About 2 months ago I came to an important realization. Actually I don't feel I thought of it, it sort of found me. These are game design principles. Universal and guaranteed to just work. The holy grail of game design.
This isn't anything new and I feel no ownership over the ideas. I did though, come to my own understanding of these principles and it changed how I perceive game making.
It started because of my random interest in random stuff… I was reading about story development (as in writing stories) and I came across Ernest Hemingway's theory called the Iceberg Theory. As I understand it, the writer in order to make a good story, should do the following thing: Only expose to the reader the amount of information he needs in order for him to enjoy and make sense of the story. This means it is not necessary to show and explain everything. For example the story "Old Man and the Sea" on the surface level (what is actually written) is about a fisherman struggling with a big fish. But what is actually going on in the readers mind is an epic struggle of the man himself, his age, weaknesses and the heartless forces of life & death.
Next thing I learned about was Chekhov's gun. This is a literary technique popularized by Russian short-story author Anton Chekhov. The technique states that no element in a story should be introduced if it is not used later in the story. Or in other words: everything that is in the story must have some use later on. The gun was actually mentioned early in the novel "Uncle Vanya". It is mentioned as an insignificant prop. Later on however it is used as a key plot element as a homicide weapon.
I could call merging these two techniques a Zen approach to writing. Meaning, there is nothing too much in the story. Everything fits in the story and has its use. And on the other hand there is nothing too less. There is always enough written so that your mind will make sense of the story and its flow.
Paraphrasing with how Albert Einstein would say it:

"Everything should be made as simple as possible, but no simpler".

There is deep, deep knowledge in those words. Please don't think I have now started writing, I don't know how to write. I do know though how to apply this to game design.
The next thing that lead me to my principles is an article that I have posted on this blog. It's called Less Talk More Rock. I don't think you should take this too literally (well, nothing should) but the bottom-line of the article is this. In any case you don't have to use words or text, don't use them and actually use the thing. Saying it another way: don't write 'rock'. Throw the rock and make it hurt!
Again this is a Zen concept. If you would ask a Zen Master "what is reality?" he wouldn't reply with any word. He might for example hit his gong: BOOIINNG!! Because nothing you say will represent reality, those are just words! Symbols in your head. Reality is the actual sound, physically going out of the gong and hitting your eardrums, and the experience of it.
So the idea behind Less Talk More Rock is not to describe an experience to a player by (for example) writing text that introduces the player into the game world. Give him the actual experience instead. Hit the gong so that he hears it!
The most brilliant use of this principle is how the game "Another World" starts. If you haven't played it, go play it. Or watch a video. The intro does not have any text. Anyone, no matter what language he speaks, knows what is going on. It is a scientist, working on some top secret stuff getting blown out into a different planet. The game also seamlessly blends the intro with the actual start of player control (you must swim to the surface from underwater).
Now this cannot be achieved without the use of 3 tools. These will be inventions, at least my understanding of general game design principles. The first tool I called Atoms. The second are Archetypes. Third is Anton's gun.
The Atom is a an atomic gameplay element. In "Another World" the Atom in the beginning is simply the possibility to swim left, right, up, down inside the water. When you get out you can run left or right and jump up. The movement here is atomic. Meaning you cannot divide this into simpler elements without losing something. Remember: "Everything should be made as simple as possible, but no simpler". So we could for example take out a dimension from the games movement and make the character only walk left or right. But that wouldn't actually feel enjoyable because we ourselves do not move like that. That is too simple. We move in 3 dimensions. So left/right + jumping just feels right.
So an Atom is an indivisible gameplay mechanic that feels just right. Most 80's classics are solely based on this principle. Actually those games invented it. Every other game in the future (every successful game) just copies those elements, mixes them differently and wraps them in different packaging.
Pong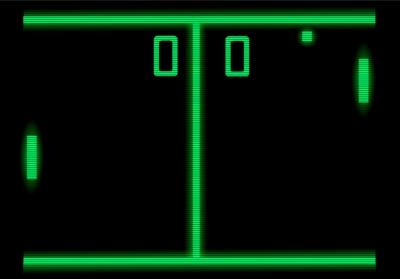 Can Pong be any simpler? Can it be more complicated? Yes it can be, but will that make the game any better, more fun? Never. Expanding the Atom never works. Meaning, it is never significantly better. Only adding another Atom and joining it with another would make the game better. So I will deliberate that adding a second ball to Pong would not make the game better. Because that is the same mechanic of bouncing the ball just more complicated. But introducing a new Atom like for example a block that can be destroyed will make it a totally different, much more fun experience. This way we just invented the game Breakout.
How do you make Breakout better? For example adding another dimension and calling it Breakout 3D? That is an actual game and it is not significantly better than Breakout in my opinion. 3D is just complicating stuff not making it more fun. Instead of expanding the gameplay element you add a new atomic one. For example you add blocks that go at you and hurt you. These are enemies. The rest is just the map boundaries. We now have 3 Atoms:
1. Movement
2. Shooting balls
3. Destroying/Escaping enemies
What game might this be? For example River Raid.

Other Atoms we can build with are: Hitting stuff; Chasing/Running away; Physics rules; Dialogs; Crafting objects; Unlock puzzles (as in find key to open door) and so on.
This is as good as it gets. You can't reinvent the wheel. Having 2-4 elements like this is sufficient to have a hit game. If you start adding more you risk not having a clear Atom and players will be confused and not enjoy the game. 80's games and today's casual games rely solely on 1 Atom. Most super commercial games (like Farmville) rely on 1 to reach the largest audience.
Exercise: What are the Atoms in Soldat?
The next thing I want to explain are Archetypes. This has to do with the wiring of our brains (something Carl Jung found out about). I have a different game design twist on this.
We humans enjoy immensely models. We love to play with models. Actually playing and interacting with models is the same thing. What I mean by models is stuff that represents reality. Every toy you had as a child was a model of something in the real adult world. Lego blocks are basic construction elements. They represent real building construction blocks. Yet children do not play with the real thing. It simply wouldn't be fun. Our brains are wired to derive pleasure from interacting with simple models.
When I thought about this I arrived at the following conclusion. The more something is realistic, the less it is like a model. Hence it is less fun. Why did I have immense satisfaction playing the game Airborne Ranger where the player was about 11 pixels and all you could do is move up and shoot? Whereas I play a Modern War-type of game where every detail is simulated and my only reaction is blehh, yawn.
I think the actual enjoyment is created in the mind. Simply your mind adds elements that are not there and it creates the game in your imagination. And your imagination is far better than any game graphics and physics realism could ever be. When I look at the 11 pixel soldier my brain knows it looks like shit, so instead of thinking about it in real terms it thinks about it in terms of a model it is playing with.
Realistic looking games start a process in my head where my brain is fooled that it is reality. So I begin interacting with the game as if it was real:
– I test the boundaries.
– I try to kill a civilian.
– A text appears I cannot shoot civilians.
– I get mad because I got fooled thinking this is reality.
– I proceed to Control Panel to uninstall the game.
How do you create an Archetype? It is not a matter of limiting the amount pixels. Remember: "Everything should be made as simple as possible, but no simpler". There is no need for a lot of pixels and high polycount but at the same time there must be enough pixels so that you know it is a soldier.
Also the Archetype must be something that your brain can associate with. Either in the real world around you or from your childhood memories. A soldier is an archetype because you've watched many movies about them. When you see a couple pixels with a gun you know what it is. You know what to expect from it. It should run and shoot. If the soldier does not run and shoot and instead has conversations when FIRE is pressed you get confused and you delete the game.
An Archetype must behave as you expect the thing it represents to behave. An Archer shoots arrows. A Knight strikes his sword. A Mage casts a spell. A Goblin attacks you. A Car drives. A Machine Gun shoots. A bigger Machine Gun shoots more powerfully. A Platform is jumpable. A Ladder lets you walk up and down. Again most 80's games are made entirely out of Archetypes.
80's games are also built using the Chekhov's gun technique. In Anton Chekhov's words:
"If in the first act you have hung a pistol on the wall, then in the following one it should be fired. Otherwise don't put it there."
Think of Manic Miner.

No element in there is not of some use. There are no decorations or things to set you in the "mood". It has platforms, ladders and stuff that kills you. There is no element there to confuse you. You cannot break a boundary of a game like this because everything in it works as it should. In a modern game there might be a ladder but it is just a prop made by the map artist. You cannot walk on it. Why is it there? So that it can look cool on a screenshot. But the actual gameplay experience is just frustration when you see there is an invisible collision box around it.
Everything in a game should resemble and behave like the thing it represents. Those are my Archetypes.
If the element in the game has no use to the player it is redundant. That is Anton's Gun (cheap way of making an acronym AAA).
Atoms
Archetypes
Anton's Guns
Now if you understand my ramblings and you've played or read about my plans about Link-Dead you will see that something does not fit here. A friend of mine when he played LD, always complained about the guns because he did not know anything about them (because they look like sci-fi weapons or some technology mash). He insisted I add standard guns (like an M14 or AK47). I thought he just needs to read the gun descriptions or fire it a couple times to get it. I gave up one day and introduced an AK for the Wasteminer faction. I had to admit this gun was much more fun to use than the others. I have no idea why because the parameters of the gun where exactly the same as the sci-fi one. But it just felt right. I knew what to expect from it. An AK is an AK. And that is how it works and you cannot bypass it. In order to have fun out of a model (which a game is) you need to know what to expect from it. Like a block in Minecraft, it's cubic and you can put one on top of another. Nobody expects anything more and nothing less.
Movement is something I have been forever working on in Link-Dead. I just couldn't get it quite right. There was always someone complaining that there is something wrong about it. But the hundreds of people that played it, noon could tell me exactly what it is. I made parkour movements with awesome animation. When I was making it I had great fun. I am really proud of this movement system. No other game has this and on specially built maps it is really fun to move. Yet when played on maps in multiplayer suddenly that enjoyment was lost. It wasn't bad it just, with added shooting and other things, wasn't as fun as just jumping around.
Only later after discovering these principles that I am writing here about I know what is wrong. The movement itself in Link-Dead is actually 2 or even 3 Atoms. And 2-3 Atoms could be a game in itself! I could actually strip everything down from Link-Dead and make a parkour only game without any shooting and it probably would have been more successful than it is now.
The next blow came after playing Ace of Spades. Someone posted in on the LD forums and I spent half night playing it. I haven't done that for years. I was missing something. This game is fucking ugly and it is as simple as Manic Miner. What the hell? Now I knew for sure I have not simply grown out of enjoying games. The kid that enjoyed playing Doom for hours is still inside me. The same games are not here! I remember browsing through Ben's blog (AoS creator) and people were bashing each other about Green Team's superiority over Blue Team's and drawing comics about the epic struggle between Green and Blue. It actually reminded me of what was going on with Soldat Red vs. Blue. And I remember thinking why the fuck am I trying to invent 2 super teams, with awesome looks and an epic storyline behind them when all you have to do is draw a blue guy and a green guy and leave the rest to the players imagination. People don't need stories fed to them, they enjoy making them up by themselves!
I think at this point I realized I cannot continue working on Link-Dead. The fact is the games design is flawed. I have made an error. I assumed that the more stuff I add to the game the better it will be. The more detail the map will have the better atmosphere it will have. The more stuff you can do the better it will be. There are easily 10 or more Atoms/gameplay elements in Link-Dead that are there or I have planned. Heck, the hacker mini-game is a game in itself! It could easily be a hit casual game.
The problem is, so much stuff to do just confuses players. To the point they cannot state clearly what they think about a simple thing like the soldiers movement. I've made Prince of Persia + Soldat + Deus Ex + Thieve + Operation Flashpoint. Stacking games on top of each other just won't work. All those games where successful because they relied on 2-3 atomic gameplay elements. PoP's movement is a game in itself, whereas in LD it is "just" moving around. Soldat has:
1. Running/Jumping
2. Shooting
3. Flying
4. Grabbing stuff
This is very sad for me to say because I really tried hard, but if Link-Dead will ever appeal to a wider audience it should have at most those 4 elements. More simply won't work. So not to make it Soldat 2 I would have to take some elements that are interesting in LD and base the whole game around it. For example:
1. Darkness + Flashlights
2. Traps
3. Killing
4. Simple movement
That's all. No mech's, no hacking, no doors, no scanners, no inventory. I have absolutely no faith now that it could work any other way. This is because I have tested my design principles.
When I realized AAA I just grabbed a piece of paper and started sketching the first game I could think of using the Principles. It turned out to be a social ant-type war simulator. It was a 2 team multiplayer game. It happens underground. Little people spawn out of eggs. You can pick 3 classes: a Digger, a Ladder guy and a Soldier which throws black balls. The purpose of the game is to cooperate with the other players to dig to the other teams base and steal their eggs. The eggs have to be brought back and given to the "King" so that he can eat them. There is no text in this game and I intended never to be any. The whole purpose of the game would be revealed by the King shouting at everyone, with a bubble icon representing that he want to eat eggs!
I called it Warmonger. I made a video of the game because I don't have time to wrap it up and put for download:
I never played this game with anyone. The people you see in the game are bots. The AI is actually quite good. The diggers dig tunnels and when they can't go up they request a ladder. Ladder people come and build ladders and so they go forward. They don't dig blindly but find the fastest route across the map.
But what the hell am I talking about!? This isn't the game that is right now on every gaming news website and which some guys tracked down me as being the author of the game.
I made Warmonger in 72 hours. I set a deadline like that. I wanted to work fast, just test out the idea. After that I was hungry for more. So again I sat with a pen and paper and this time I sketched another multiplayer game. This time I set the deadline for 2 weeks. I stopped posting on my blog. Didn't tell anybody what I was doing, even my relatives and friends and just worked on this game. After 3-4 days I had the game more or less working and I knew I had something going on. I posted anonymously on a pixel artist forum and pitched my idea.
I pitched the game as a remake of this game:

An old SNES 2D RTS King Arthur's World. One lucky pixel artist that goes by the handle Geti thought it's a nice idea. He didn't know what he was up for or who he was going to work with. I think I met the deadline of 2 weeks and the game went live on gamedev.net game developer forums. Anonymously. I did the same back in 2002 with Soldat. Now what happened from that point is a story of its own and I will write about it someday.
The reason I published the game by a different nick is that I wanted people to look at it with a fresh eye. Not associate it with Soldat or Link-Dead. I think a big problem with LD is that people can't be honest with me. Nobody can tell me, look MM this sucks, do it again. That wouldn't be honest also, because the game doesn't suck. There are elements in it that are actually awesome so… I don't know. I posted anonymously just to see what people say without any expectations.
During the last month King Arthur's Gold got a huge crowd from Reddit and then every news site that has interest in indie games wrote about it.
This never happened with LD. Only TIGSource is a stable fan and writes LD news. But this is not what depresses me most. The most depressing thing about LD is that nobody ever pirated it. And that is probably the single most telling fact about the game. Everything that is awesome gets pirated. And it's not the security because there is none.
If you look at the KAG dev blog you will see that I am quite busy working on the game. And I will be in the nearest future, people really enjoy it and I want to give them more. I am not working on Link-Dead anymore. If I return to it, it will be a different game or I will work on it as a 2D technology show case. The map editor and the bump mapping and lighting are an impressive technology that nobody has. I want to make use of it.
Unfortunately we now live in an age where nobody cares about that. Pushing the limits of 2D graphics and tile mapped games doesn't interest anybody other than a few die-hard fans and me. People are actually ecstatic about low-res pixel graphics (Minecraft). So until this fad dissipates I'm gonna join them. I see no point in fighting it.
Many of you of course payed for Link-Dead or to be correct donated. You payed whatever you wanted for the game and you got a working/playable game. I think whatever price you gave it is fair for a 3 map, 14 weapon + map editor multiplayer game. You can still play it with your friends or try to gather some people for a match. However I totally understand you might want to get your money back. If that is the case, please write to me (mm (at) thd.vg) that you want a refund and I will give it back to you. You might also want a second option which is: you will get the next game of mine in the future for free. It most likely will be a full version of King Arthur's Gold (if it becomes payable in some form). It is yours, as a thank you for helping me survive and have food to eat for the last couple months.