Here is my answer to to the game I wrote in the previous post "Arrrrrr!". This is actually my whole philosophy of mind relation and productivity.
Consciousness is the pirate monkey.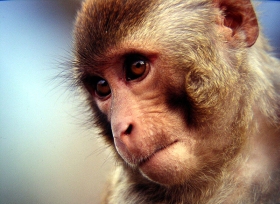 That means YOU, the entity that is aware right now, is a little pet rhesus living on a pirate ship.
The people that said you are the parrot, were also close, but knowing you are a pet monkey gives us more understanding of what is actually happening here and what you can do about it. What does this knowledge give us?

There is an entire multi-million dollar industry called "self-help". It is entirely devoted to answering one question: how do you do things?
Not just on a skill level but actually how just to do something you want? Because if people knew how to do things everyone would be rich, healthy, athletic, smart and popular.
Now the good books give you the answer, but it is not actually an answer you want to hear.
The answer is: it is not actually YOU that does things.
It is the body and certain brain parts that DO stuff.
So let's look at the other important pirate ship parts and see what they are in this perspective:
Crew – action functions of the body
Captain – the decision making part of the brain
Sail map and measuring tools – rational thinking
Rats – drugs
Loyalist – social programming
Parrot – the voice in your head
Queen – DNA programming
The most important part to understand is the Queen. She gives the default orders for the corsair ship to operate on. The default orders are to sail the seas and fight pirates.
In our situation we have genetic programming. The DNA orders are to survive and to reproduce. The only thing this organism is interested in by default is to survive as long as possible and to reproduce one of its kind. That's all.
Now, because there is free will this can change. You cannot change this directly because you're not the Captain. You are a little monkey fooling around on the ship. The only thing you, as a monkey, are interested in is… having fun. You want to have fun, but you are on a corsair ship. You want to sail to Treasure Island and find gold, you want to become a reckless pirate but you're just a little monkey. This is why it is hard and this is why so few people actually live their dreams.
My whole philosophy revolves around finding clever tricks or actually convincing the Captain to do what I want.
You have a little bell strapped around your little rhesus neck. The first thing you can do is – Attention.
By running around and ringing your bell you are working on the attention of the ship crew members. You can notice for example a book about treasures in the Captain's library and hold his attention to it, so he might read it and think it's a good idea. You might dance around on the map where the Treasure Island and capture the attention there. You can also gain trust from the Captain and crew members. For example if you notice an iceberg you can ring your bell and the danger will be avoided. If you gain trust by cleverly using attention, the Captain will soon give you more responsibility for driving the ship.
The second thing you can do is – Mess around.
You have little monkey hands and you can use them to manipulate the ship environment. You can use it for evil and sabotage the ship, for example throw a rat into the kitchen, but you might get punished by doing that. You can do other things too, like sit in the map room and erase the voyage plans and draw your own. This might work for a short while, but when the Captain notices this he will backup and your plans will fail. Because the parrot is also an animal (I like to think of this as a Disney movie) you can talk with it. You can tell the parrot to squawk all day long to the Captain and try to convince him this way.
These are tricks, the real goal is to actually convince the Captain to do what you want. That is when things really start happening, because the body stops being interested in survival benefits and starts living for adventure. The real good thing about it is, that things will actually start becoming done by themselves, because again it is not YOU that does stuff. This is what my next article will be about – conscious effort – and why it is a totally wrong idea and why once you get to learn how to use your special monkey abilities you'll know how to make the body do things by itself – and you'll have fun while doing them.
One other important thing to this is, whatever you are imagining and living right now, what seems to be going on in your head, is not equal to the reality of the body (and the absolute reality if we're at it). The body lives in a world that consists only of two questions: how do I survive and who do I fuck? That is its reality. Your reality might be something completely different because you are not the body. It can also be similar because reproduction can be fun if you know what I mean.
Just know that whatever dreams you have is really your imagination and the body is most likely not interested in them. If you want to create a game for example, there is no survival benefit in that. If you ever tend to be lazy and sit around watching TV that is because lying on the couch is a direct survival benefit, it is MUCH more important for this organism. Realizing your dreams is not.
This is why losing weight is so hard for many people. Eating more and more is a direct survival benefit and what YOU know the body doesn't know. If you know excessive fat will kill you that doesn't mean shit to the body. It doesn't know what you're thinking. The body does not know about your plans. The Captain does not listen directly to a little monkey.
The trick is to find ways of letting the brain and body know about your plans and make them reality. In simple words you must connect your dreams and convince the body that it will be either a survival or reproductive benefit. You will know when this happens because you'll start having fun, that is what you are here for. So have fun while waiting for my next post.