In my article Why your next 3D MMORPG will fail I wrote that everyone is average. Although I meant the same thing, 'average' has a negative connotation so it might be wrongly interpreted. Let me restate that:
Everyone is awesome!
In my previous post On arrogance (this is the second part) I wrote about how every human being places himself in a social hierarchy (or pecking order). Which results in him feeling better or worse than other people.
I am not arrogant because of the simple reason that I do not feel better than anyone. I just feel great about myself, without the need to compare that to anything. Why do I feel great about myself?
Why would you need a REASON to feel good or bad about yourself? If you're thinking like this, it is exactly the pecking order in work. If you're seeking reasons for validating yourself, you're actually comparing yourself to some person or an ideal and feeling accordingly. You're placing yourself on a social hierarchy (that you have made up by yourself, as I explained).
I am standing apart from that. There is no need to justify my well-being and thinking of myself as awesome. I just am. And so are you. If you realize it or not.
This probably comes from an understanding that everyone is the same thing actually. All people are equal.
The only thing that we are different at are our looks, size, biology, behaviours, culture, thoughts, words we speak, actions, jobs, titles, achievements, knowledge and so on… seems like everything?
Well no, I listed only the things which can be perceived externally. If we study a human being scientifically and objectively we will find all these things. When we objectify people we find only differences. If we compare people's waist lines, people's IQ's, people's opinions and tastes about music each person will have a different measurement. If we study humans all we see are differences.
But I see just one and the same thing. Do you have an intuition of what it is?
It is the simplest thing in the world.
A child understands this.
It's actually the first thing that happens to you when you are born.
Before you had any knowledge about the world. Before you could actually hear sounds, see something else than light and darkness, before you were taught anything, before you learned to interact with this world all you ever had was… experience.
I'm talking about your subjective experience. Consciousness.
You just arrived on this earth and started experiencing. You were JUST conscious. You were just experiencing the "I am" of your being. You were completely melted and embracing this peculiar experience. Because it is strange.
Probably the minute I was born, I thought to myself – what the fuck? Why am I experiencing reality, what is this? And I started crying.
Now what I am going to write about here is my current speculation about the subject. I don't really care how correct it is, but I do know it works empirically, it makes me feel good about the world, humans and myself. So enjoy.
Of course we percieve the strawberry differently, nevertheless the fact that we are experiencing the strawberry remains the same.
I believe all humans, animals and vegetation are conscious, in the exact same way you are. It is just a tool for something to look at itself.
I don't think it is anything magical or fancy. I think of it as a physical property like gravity or a magnetic field. It is sort of a field. An ouroboros of the universe which has an ability to look at itself. It is used by living organisms when there is a demand for it. Mostly living organisms use it for survival, because they need to create models of reality and they need to experience that model. Why is there a need to experience the model? I'm not sure, but I suspect it would not work without it.
Of course this is extremely counter-intuitive. It is hard to imagine a worm being conscious. Even harder to imagine a tree being conscious. But every living organism in fact does the same thing. A worm must create a model of its earth reality in order to dig holes and find food. A tree must create a model of reality in order to seek sunlight and fresh soil. We humans also create models of reality in order to find funny videos on Youtube.
Human consciousness arises through the 5 senses (seeing, hearing, smell, touch, taste). If something enters through the eyes or ears we become conscious of it. Of course in a worm it is much simpler, or different, cause it just has a sense of touch. A tree also has a different sense, I can only speculate what it means to be a tree. But just because we can't imagine it, doesn't mean it is not true. The senses are different but the arising of consciousness is the same.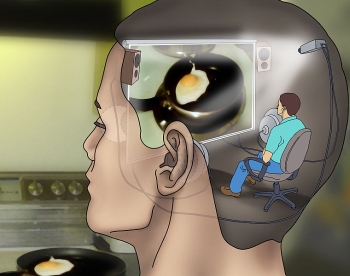 Let's focus just on people. We all have brains don't we? These brains have the same function – they create models of reality in order to help the body live in the world right? All brains are made out of the same thing – neurons, synapses and other grey and white shit. So if this is the same in all humans why would they be any different than you? Or why would their present functioning be any different?
Of course they are different, but not in the sense I am talking about. All people have different thoughts, ideas, emotions, they see, hear and believe a million things. All of these things that happen in the mind are different. But the thing that always stays there is THE FACT THAT THERE IS AN EXPERIENCE OF THEM. Or in other words there exists an experiencer or observer of all these things.
Your conscious experience now is functioning in the exact same way as everyone elses. Consciousness is in you and me, your friend and your neighbour that you don't like! We are all here to experience reality as human beings. Have as much fun as we can, live as fully as possible. We are all awesome, just because of the fact we exist. You are great and you don't have to justify it. Never explain yourself or feel sorry for anything. No reason.
Look for an answer of your own and test it. My theory makes me feel at peace. I wouldn't really consider it if it didn't give me results. Talking to people from this point of view is… effortless. Even if it is somebody I never met before, I already know him/her, we are the same, it's like talking to yourself. Also I developed a lot of compassion for humanity nowadays and there are lots of other side effects coming from this thinking, like feeling OK with everything, but maybe that's just me…
Of course I have not wrote everything I wanted to say. What started as a post on arrogance will eventually lead to a third part. In that post I'll leave the best part, actually my theory of everything haha. So until next time…
Appendix. I probably overcomplicate stuff, so here is a video of Tim Galwey, he is talking about the exact same thing – At the Feet of the Wiseman.