It will only take you 10 minutes to read this, but it is probably the most important thing I wanted to write this year. It is my message for Mankind for Christmas and New Years Eve. It'll also be my last post this year. So enjoy.
Did you ever notice how your mind has an amazing ability to adapt? How flexible people are and how many different things they believe? From the most amazing, to the most ridiculous, to the most mundane. There is a pattern here, your mind has a pattern of thinking, do you see it?
If you were born in India and follow the teachings of Hinduism, you will believe reality is created entirely out of sound. If you were born in an Aborigine culture you will believe that reality is a dream. If you were born in the Western culture and sometimes watch the Discovery channel you believe reality consists of objects, like atoms, particles, cells and neuron networks in your brain. If you follow what you were taught in school (well at least outside of Kansas) you will believe in evolution, and that man evolved from ape. If you follow what Christianity tells you, you will believe God created you. If you follow pastafarianism you will believe the Flying Spaghetti Monster rules the world. If you were raised in ancient Greece you believed the history of the world were Gods and Titans fighting each other. If you were born today you think the history of the world is what you can read on Wikipedia. If your interest is science you will believe science has answers. If your interest is spirituality and esoterism you'll believe the Tarot or I Ching has answers to everything. If you lived a long time ago you thought the world was a giant tortoise. If you lived in medieval ages you thought the world was flat. If you live today you think the world is round. If your interest is economy, you'll see marketing and money everywhere. If you are an alcoholic it seems impossible to stop drinking. If you are not it is impossible to not refuse a drink. If you listen to metal, you think metal is king. If you listen to cha-cha you think cha-cha is king. You might think Quake is the best shooter, or Unreal, or Crysis, some even think Soldat is. If you were born in a poor family, you see rags everywhere. If you were born in a rich family, you see riches everywhere. If you're a programmer, you see people and the world as computer programs and machines. If you're a musician, you see songs everywhere. If you study geometry or math, you see the golden ratio, spirals and fractals everywhere.
Everywhere you look there is a spiral. From the smallest to the unimaginable.
Everything is myth, math and metaphor.
There is no reality other than what you percieve. Everywhere you look at, there are only myths, numbers, metaphors and spirals. The problem arises when you believe that it is real.
There are no spirals.
All these different people I wrote above believe that what they are thinking IS real.
Think about it. They thought or think it is real as much as you think your reality is real.
All people today and in history were thinking that what they know is the truth.
Science exists and is believed to be a method of understanding reality because it works and gives useful results. Thanks to science we have computers, medicine, Tamagotchi's.
Mysticism also exists because of one and only reason. The same reason science exists. Both are methods of understanding reality through experience. If a ritual did not work it was discarded, people practicing it were not dumb.
Every tribal and ancient society in the world had shamans and rituals. Does that ever make you wonder? They couldn't possibly know about each other, there was no internet to communicate and share ideas about shamanism. Whether it is South America, middle of Africa or the Arctic Pole, every society living there had some kind of spiritual belief system. Why was it so important? The best explanation I found for this is exactly because shamanism WORKS. A shaman in trance gets things done: he helps hunters find animals, he cures decease and he predicts future events.
Scientists also make our lives easier (find food), produce medicine and use statistics and physical laws to predict future events. I don't know which method is better. It depends on your purpose, shamanism won't invent a Tamagotchi, but science won't help you talk with the spirit of the earth. The fact is, both methods work in one way or another in everyday life, that's the only reason people use them.
Do you think your reality is better than the Indians? Does the Indian think his reality is better than yours?
Your method of understanding and knowing of the world is a belief system. Christianity, science, Buddhism, shamanism, nihilism, optimism. I believe that all of these systems don't tell us anything about reality itself, they only tell us how are we thinking at any given moment of time. They are metaphors that help us operate in this world. They don't tell us anything about the ultimate reality itself. Our minds work only on metaphors…
…and we cannot escape the realm of the metaphors we create for ourselves to live in.
Some people try to find the ultimate Truth and believe that tools like science are able to find it. Yet they don't see that the only reason they can't find it is because they are not true to themselves. Face it, "Truth" is also a metaphor. Like all ideas, just created by us humans. Why is there a need to find what it is?
It is like looking at an Escher picture.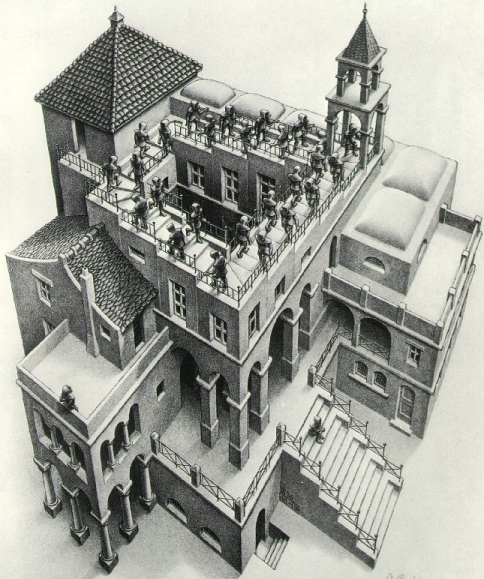 The steps always lead somewhere, even if it looks like there is an end, you are always stuck on the damn steps. You cannot go beyond the metaphors of your mind, you are always stuck on your interpretations.
And you are always stuck on thinking they are real.
Enlightenment often comes to students of philosophy. Philosophy for me is a study of different world views, not about what is reality. If you learn about enough world views soon you'll start seeing a pattern. Read about Nietzsche, Plato, Socrates, Kant, Wittgenstein, Krishnamurti, Yoda. The more far out of your reality the better! If you are a nihilist try being a religious fundamentalist for a week. If you are an optimist, try being a pessimist for a week! If you follow Greek philosophers try following Hindu philosophers for a while. Do it and you'll see that the new understanding is fundamentally no different than the other. EVERYTHING MAKES SENSE AT ONE POINT OR ANOTHER. Most people are stuck with their one reality model and think that it is the truth. We all think that what we are currently thinking is true, just because it makes sense. It's as if everybody was right, yet all our views are different?
You can believe in just about anything if you give it enough time. EACH PERSONS REALITY MAKES SENSE TO THEM. They wouldn't call it reality if they didn't believe in it.
We are all right and at the same time we are all wrong. In every moment, every second of our life time we're creating and experiencing ONLY interpretations and metaphors. We are not actually seeing reality as it is. From a neurological point of view our brains are just constructing meaning from sensory input. What you perceive consciously is the end phase of a massive filtering and modelling. The final result, what you see or think of reality, is an INTERPRETATION. The Hopi Indians, Aborigines or Toltec's said that we are all dreaming…
It is just in your head.
You see spirals everywhere, but that does not mean there are spirals anywhere really to be found. If you look at a galaxy and then look down until you see a snail, spirals are the only thing you can see. It is the limit of your mind.
You cannot see anything else.
If this dawns to you, it changes everything. All that you see, hear, smell, think, everything you have been taught by your parents, friends, society, religion, school is just an interpretation of reality based on simple mind structures like geometry, psychological archetypes and myths. No understanding is different or better than another. Everything is a model existing entirely in your head.
All is myth, math and metaphor.
This is why there are currently 6.6 billion realities. Not ONE reality. Every person in the world, has his own reality. And the sick thing is that most people think that their reality is better and/or more true than the reality of his neighbors.
Everybody will try to convince everybody that it is their reality that is more real than everyone else's. They argue, write books about it, brainwash one another, start political parties. Some people go to the extreme and start wars. Wars are fought over ideas. Think about it.
If enough people would realize what I am saying here, I believe the world would be a much better place to live on, it would probably be an end to war. But even if not, certainly earth would be a much more chilled place to live on.
It is scary that people kill each other, just on the basis of their thoughts. One side wants to get rid of Jews, the other side wants to get rich and dominate the world. This was World War 2. If you live in the Western culture you think the Allies were the good side and they were saving the world from evil, if you were a Nazi you thought the Axis was the good side because you needed more space, if you are from the middle east you just see the grand plot of white people to establish Israel on Arab land. Of course on whatever side you are, you think you are on the good side. If everybody is good why do we fight each other?
You must notice this, if anything is ever going to change. Like any other, World War 2 was a war of reality models. A war over whose metaphor is better than the other.
There is a movie that I can watch every single day and not get tired of. It is The Great Dictator from 1940. Please watch this clip. It is one of the most powerful scenes in movie history. Charlie Chaplin is being mistaken for being the Führer and he is asked to give a speech. He is only a simple barber and this is what he has to say.
Watching this I have no fear of the future. As long as individuals like this keep inspiring us we'll all be just alright. This is power ultimate.People like Charles Chaplin don't try to force any idea into you. They are open minded, they don't think something is better or worse. This allows them to take anything, any world view and use it as a source of creativity and inspiration. This is the only way something new can be created. First you must destroy whatever it is that is enslaving you. You think something is, must be, can't be or should be? Chill out. That's only a metaphor you have created, destroy it and use another one. Use a metaphor that will allow you to be great. Use a metaphor that everything can be and will be.
Stop thinking about the things you want to accomplish and make them happen. If it seems impossible, it's because that's the meaning you created. Don't EVER believe anyone telling you something is impossible, they don't know shit.
You're only as powerful as the metaphors you use. A powerful metaphor in your mind is a leverage which will allow you to accomplish and do things that previously you thought were out of your reach. If you have a lever long enough you can move the world.
On the other hand a lousy metaphor will make you bitter and sad, and you'll believe some things just can't be done. That is your reality. One of 6.6 billions. You can change it anytime you want. It is your choice.
I wish you get some worthy presents this Christmas. It would be great if you could get and read one of these books:
– if you're on the rational/psychology side of thinking read Radical Honesty by Brad Blanton.
– if you're more on the spiritual/mystical side of thinking read The Four Agreements by Don Miguel Ruiz
The best thing you can do is read both and see that there is more than one reality, not just psychology OR mysticism. Both books are really about the same thing. They are about liberation.
That's all for now, I'm taking a break from this blog.
Just to free myself from my own creation and not get too stuck in my own metaphors.
Don't follow anything or anyone.
Don't ever think that you know the truth.
Don't ever believe anything you see, hear or read.
Don't believe what you think.
And of course don't believe me.
Question everything.
Questioning is the most powerful metaphor of all.
That's what I wish you this Christmas… and have fun.
"sammy enron harvard" you struck gold