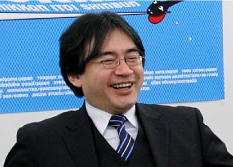 Oh man I'm in love with this guy. I started reading these conversations again and decided to continue my commentaries.
These are conversations with Nintendo's boss Satoru Iwata, about his management philosophies and about Mr. Miyamato's (Mario, Donkey Kong) game design philosophies which he studies frequently. 
Part 1 about great ideas – http://mm.soldat.pl/?p=79
Part 2 about looking over someone elses shoulder – http://mm.soldat.pl/?p=81
Part 3 about a special perspective
Itoi: Mr.Miyamoto has been unique to think that "if the players don't understand it, their's fault in the design I made". Were there many designers who thought that way?

Iwata: No, I think he was very unique. Often, people only look from the designer's point of view.

Itoi: Must be so.

Iwata: Many designers put their personal perspective into their design as if it represents everyone's opinion. In reality, based on the fact on how the player reacts, you should draw a hypothesis, and then you should figure out how to solve the problem from the root. But, people often mix the facts and presumptions, and push that mixed opinion through without solving the problem based on the fact.

Itoi: That just leads to throwing subjective opinions at each other in the development meetings, doesn't it?

Iwata: Yes, although that's not totally useless.
Creation always has an aspect of expressing one's ego. Mr.Miyamoto's no different. He does have that side in him. As long as you're creating something, you can't avoid being an egoist. What's special about Mr.Miyamoto is that he is unthinkably egocentric in one way, but he never loses an objective point of view. He's always alert about people's initial response to his creation. If he finds they don't get it, he simply drops it and looks for an alternative.
MM: I do things the way I like it and it usually works. Especially in the areas where I have a good feel for it. It is important to know where to be egocentric. Weapon balance is not a good area, because you will tend to promote the weapon you like most. Game feel and map design is an area where your intuition may come in handy because that has an impact on what the game is actually about. It is an extension of yourself (of what you like).
I don't even know how to do games from other peoples perspective. I mean, how good must you be to know what other people think and need. It never works, like trying to please somebody, you don't know what they like, you only know what you like. So I work on an assumption: If I like something, there are going to be other people that like it too. I'm not that unique.
Iwata: I think the "idea which solves multiple issues at once" can't be found when you're looking at something real close. You need to be able to switch your point of view. That's not an easy thing to do. Mr.Miyamoto can do it easily. He's the type of person that can come up with a solution that can truly save someone when he/she's in danger, and not rescuing him/her at the cost of another.

Itoi: I can see why you call yourself "the researcher of Miyamoto studies". (laugh)

Iwata: (laughing)
Oh, yes, I'm the world's number one researcher of Miyamoto studies.
MM: Oh yes you are (laughing)
Itoi: You've been calling yourself that for quite a long time. (laugh)

Iwata: He must be sneezing now.
MM: Um… sneezing?
Itoi: Didn't Mr.Miyamoto major in industrial design in college? That's something significant that makes him who he is now, isn't it?

Iwata: I think so. I think it's a huge factor that he used to study ID(Industrial Design). It's not about how artistic it is, it's all about how the product meets its objective.

Itoi: He is really making use of what he studied.

Iwata: Knowing Mr.Miyamoto as he is today, it seems to me that it sort of was inevitable that he studied ID, and not by coincidence.

Itoi: The logics he acquired through studying ID must make up a significant part of him, how he picks out the correct answers through people's responses.
MM: If you've ever watched Steve Jobs Stanford commencement speech you'll hear that he had a similar point – you never know what you'll need later in life. Everything that you study and learn is accumulated inside of you and you can trust me on this, it will be used at some point in your life. Even if you've learned it for years and it will be needed once, it's worth it, if that moment is crucial for your success. Jobs makes an example of studying caligraphy, a pointless subject in modern times, but the knowledge about it was what inspired him to create True Type fonts on Apple computers in the 1980's. It was a revolutionary idea, we don't remember that fonts were all ugly computer-like back then.
The point is, whatever you learn will be used. And actually the more pointless and abstract things you are learning the better. Because that is what makes YOU unique. If you learn something, like a skill, or piece of knowlege that nobody else wants to learn or sees no point in learning it (like playing the balalaika), that's a good indicator that you're doing something special. And that maybe something new in the world and might start a revolution.
Iwata: Definitely.
The majority of people think he's the person of art, full of inspiration, with a natural talent coming up with ideas one after another, as if he was guided by God.

Itoi: But that's not how it is, right?
MM: Mr. Miyamoto is God.
Iwata: Not at all.
He's extremely logical, but that's not all. He creates a mixture of left-prefrontal-oriented elaborate logic, and dramatic ideas that people are blown away by.
To be honest, I have to say I envy this.

Itoi: You always talk like you don't have that kind of mixture, but I think every programmer has that within himself.
MM:
Left -Logical
Right – Radical
I think a mixture of these approaches is the best. Especially if you want to get things done, you need to be a more radical programmer. Have tons of ideas up your sleeve. On the other hand if you want to have good looking and scalable code, you need to logically think it through.
Iwata: Well, I don't say I lack it, but surely I wouldn't want to compete with right-prefontal-oriented people like you or Mr.Miyamoto on your grounds.

All: (laugh)
MM: I didn't get it… And what about that sneezing?
Itoi: Really? (laugh)
Iwata: I know I only have a slim chance of winning. (laugh)
I'd rather compete in my own field, than someone else's.

Itoi: That's another thing you've been saying for a long time.
(to be continued)