There is a problem with today's culture, do you see it?
We are no longer the target of mass culture and entertainment. Feminism has secretly destroyed what is most precious to us and what has real meaning. It was secretly destroyed, that's why you have to learn to see it. It will be good if you remember how things were, in the 20th century, it will help (I feel so old writing this haha).
There is not enough manliness. And it's fucking awful.
I'm going to head in a new direction with this blog to show the world that we once had and show how it is escaping from us. It will be gone before we turn our heads to realize what happened.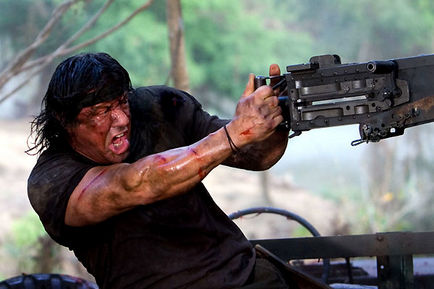 There is only one hope. In individuals who lead us. Let Odin bless Sylvester Stallone and what he gives us – a new Rambo movie this season! First Rocky now Rambo? We are not worthy!!!
Don't say Sly is too old for this. If you think like that you're a pussy that's all and you'll still be one when you get old. Real men the older they get the better and more manly they become. It's only women that degrade with age. We have the privilege to become stronger everyday until the day we die.
You may say it is not your business. But do you really want to live in a world where you don't have a source of good entertainment, a world without male role models and manliness? I don't think you really do.
I know I'm promoting here a hollywood movie, but before you label me as a puppet, let me say this. I believe we are cultural creatures. We can't live with out it, it's like air to us. Hollywood is something we need as species to survive. And because it is a necessity, I would be glad to have at least a choice of what it is. I'm fine with Hollywood's existence as long as it makes movies for me to watch! So if this movie is going to reach the box office, maybe it will tickle some of the old Hollywood producers hearts (and wallets) and they'll see that there still is money to be made out of men!
I know we don't spend nearly as much time shopping and watching TV as women. We won't ever be nearly as good consumers as them. But we want entertainment in the same way, we are people too.
Hollywood, we men have money too!
I know this is a worthless cry. The machine is already in motion. The best thing we can do is save those old Rambo DVDs and hope they don't ban them in the future. Who knows.
Anyway let's get back to games, this is not just about movies.
You might know that I generally hate the mainstream games, but maybe you don't know that I equally hate or maybe even more the indie games sector. The reason is that there is rarely a good game made by an independent game company or lonely developer. A good indie game is more rare than a good AAA title.
I have an emotional agenda here because it is not that hard to produce something of value, you just have to make games from the heart not from your ass. People want to play a good game and have fun, they don't really care about anything else. They don't care about prerendered intros, splash screens, old technology with new cool sounding names and fancy DVD boxes. This is one of the reasons I'm having this blog, I want to communicate that there are different ways of thinking, of seeing the world and doing things. You don't have to follow any set of rules, rigid laws or make games according to peoples expectations – just follow what you think is best for you.
Especially in a feminized culture which opposes to whatever it is we want to be doing. Not caring about what other people think and following your own heart, is one of the manliest things you can ever do. Again, thanks Sly for still being there for us and showing the way.