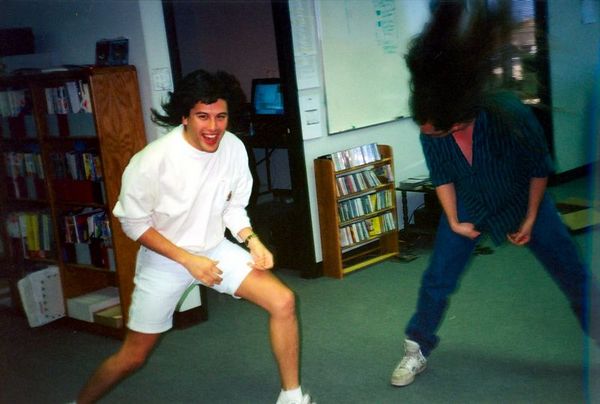 John Romero and Both Shawn Green headbanging while making games.
Went to a metal concert yesterday. I thought I'd share some tips on how to enjoy metal.
First of all I like metal because it is music that you have to actively and truly listen to, to experience and enjoy it. If not it will seem like noise to you or it will be too hard or brutal. The secret is that it must be listened with your stomach, balls or heart. Any other way is just fooling yourself. If you listen with your head, you are having an intelectual experience instead of a musical one. To listen properly, the most important thing is to listen LOUD. I cannot emphasize this enough. A good speaker system with a subwoofer is minimum. These are my speakers (apparently Sigvatr has the same ones).
Speakers might be very good but they will never come close to a live concert. That's when you really feel the music. You feel the vibrations, the percussion beating your heart, the base guitar in your gut and the voice of the singers ripping your soul apart. This is listening to music as it is supposed to be listened to. Because listening is not hearing stuff nor is it something intelectual where you think about it.
Listening to metal is primarily a vibrational experience.
Second point. This is important for matters of discussion.
There are no songs in metal.
A lot of stuff that is out there can't be called a song. You name a song a lullaby or something written by Mariah Carey. In metal there are pieces instead of songs. Metal pieces.
Third. Take note that as with everything:
There is good metal and bad metal.
For example Cradle of Filth is crap. But Moonspell is awesome. Simple. Every metal band where the singer sounds like a pussy or barks instead of growling is crap. They are missing the point. Which brings me to the fourth point.
Metal is about the dark side of humanity.
There are so many definitions of metal that it gives me a headache. It's not about painting your face in blood or heavy guitars. This is why Black Sabbath is the granddaddy of metal. Not because they started playing heavy riffs, the music is just there to color the message. The music is about darkness. About embracing the darkness within you. Getting it out instead of hiding. For centuries the dark side of humans has been suppressed by religion and institutions. Nowadays it is simply denied by culture. We do not remember that we are beasts within. Metal teaches us that we should not suppress, hide it or deny it. We should embrace it. And once you do this it will become your source of power. It is great energy that can be used – actually for good.
We are predators and each of us could easily kill and do other horrifying things if given the right circumstance, even the Pope. Or as John Rambo put it "If you're pushed, killing is as easy as breathing". This potential is in us. Political and military leaders know this. That is why they manipulate people into joining an army and going to war. But instead of using this power for actually killing we can use it as a source of creative energy.
I'm not going to beat around the bush. I make games in which the soul purpose is to brutally kill other players. And thousand and thousands of people play these kind of games every day. My belief is that it is far better to spend time virtually killing than joining a real army and serving someones political agenda under the disguise of patriotism and freedom. So my message is: ride hard, live free, no war, heavy metal, video games, rock, drink and fuck.