Disclaimer: I do not hold responsibility for what this software does. This is a test release and I want to check how it works. Windows only.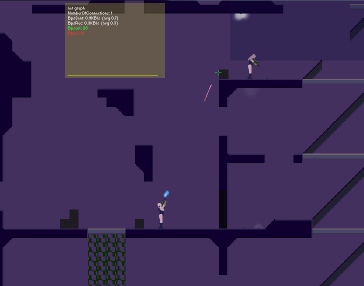 This is primarily a network game test release. It does not have much to do with Link-Dead. It has quick and dirty graphics and sounds which resemble a certain 1990's game.
Please do not report any bugs. I don't care. The only thing I'm concerned about is whether and how the network play works; if it crashes or doesn't work in any way.
The controls are standard WASD. If you want details they can be found ion the menu (ESC).
T key is for chat
To play with yourself:
take off your pants.
Just kidding.
Press escape. Select Game/Start Server.
When it loads: Select Game/Join Localhost

To play with real people:
Download and install Hamachi
Create an account or whatever it tells you to do. When you're ready, in Hamachi click "Join an existing network…".
Fill in the details:
Network name: link-dead
Password: funnybunny
In the network, there should hopefully be other players. You can chat with them (click on link-dead for channel chat), setup your server or join their servers.
To start a server follow the steps above in "To play with yourself"
To join someones server press Game/Join Address. Change the IP:Port to the players IP. Default port is 50008.
That's all. I hope it works.
Oh yes and the download link! Grab it here.
Please report if it crashes. Tell me when exactly in the game it happens, a screenshot will help.
The framerate won't go above 30 fps, it is fixed, not slow. If it drops below 30 then tell me and mention what hardware you have.
UPDATES:
http://mm.soldat.pl/downloads/awtest06.zip
- fixed graphics messed up on some systems
http://mm.soldat.pl/downloads/awtest05.zip
- fixed crash on map1.png load
http://mm.soldat.pl/downloads/awtest04.zip 
- fixed crash on kill and possibly others
http://mm.soldat.pl/downloads/awtest03.zip 
- fixed disconnected player crash
http://mm.soldat.pl/downloads/awtest02.zip 
- fixed join crash