Here it is, fast as lightning :). Lots of bug fixes in this patch. It's not perfect but I'll get there in the next releases.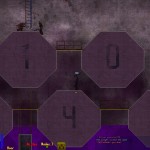 Most important changes are:
Camera now works differently; you can move it around most of the time instead of just when aiming; It stays in the center of your character only when moving (cause it's easier to move/climb like that)
Running/walking movements are now smoothened and the speeds are more unified; also the player does not stick so much to the surface (this gives a new feel to the moving, I think I got rid of the awkwardness of the running from previous releases)
Armor is much heavier; some movements like wall climbing are restricted only to light classes
Huntdown is now about hunting heads!
See change log for details 
Changes 1969-1972:
[general]
- wide view is now default; view is limited when moving
- aiming with weapon slightly zooms the view
- action menu can be used at any time now
- guns and pickaxe have more mass and are slower when thrown
- weapon throw aiming is twice faster
- weapon can be only thrown after aiming delay
- FOV 135 is further from player now
- gravity is 15% lower
- added short description on weight slider
- smoothened running animation transitions on slopes
- smoothened run/walk animations
- when running on lower slope character doesn't stick but flies a bit
- unified run/walk/back slope speeds
- holding [DOWN] (S) key drops through all platforms and stairs
- special rolls and flips are restricted to light class only[bugs]
- fixed client & server ragdoll crash
- clamped mouse cursor to screen bounds
- fixed secondary gun having disabled lasersight and flashlight
- fixed grenades on belt exploding
- fixed slide, piss and choke sounds being played infinitely after map restart
- fixed throw gun collisions
- fixed invisible weapon dropped from backpack
- throw weapon does not get stuck in ceiling on throw
- fixed FOV optimization bug
- fixed FOV errors on scoped distances
- fix server crash on weapon fire
- fixed crashing if no bot files are present
- fixed inventory render crash
- fixed glitch on jumping sideway on a slope
- fixed laser stopping on glass
- fixed climbing up wall if left and right key held together
- fixed Glitnir not passing glass
- fixed lasersight icon in action menu
- fixed Einheriar armor with black artifacts on non-shader rendering
- fixed 3 tile height fast climb animation
[visuals]
- added fixed stance and speed icons to hud
- added aiming black line (simulate visibility through muzzle)
- added acid piss fumes
- pickaxe rotates in air
- added heartbeat detector in hotkey icons (although it doesn't do anything)
- remote bomb frequency is now bright yellow in pie menu
[effects]
- limited armor fall off sounds
[rules]
- Huntdown rules change:
* Einheriar need to collect 10 heads to win
* Wasteminers need to kill all enemy units (team count multiplied by 10)
* If time limit hits none of the teams win
- added "waiting for players" text in scoreboard
[balance]
- stock recoil reduction down by 15%
- Glitnir shot now needs 75 out 100 energy points
- all armor is heavier by 0.4 points on average
- Baldr is 2.0 points lighter
[other]
- application writes process ID on start and saves it to Logs/pid.txt
- ragdoll is stabilized on start